Harry Ferguson, Massey Ferguson, Massey , Ferguson Brown, Ford 9N, Ferguson, Fergie, grey Fergie, Wallis, Parrett, Blackstone, Dickie, Landini, IMT, vintage tractor, antique tractor, agricultural history
The Friends of Ferguson Heritage Ltd. exists to encourage and assist enthusiasts in their interest in the engineering achievements of the late Harry Ferguson. The club made a healthy start, and has grown rapidly since the first magazine was published (issue one was for Spring/Summer 1994), and the excellent magazine (pictured right) is now received four times a year by members. The internet came too late for Harry Ferguson, otherwise he would, no doubt, have made good use of it.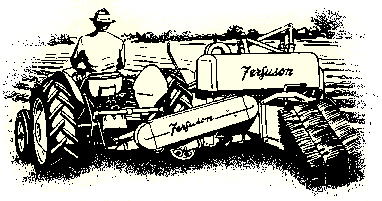 .


To get back to this page, just follow this tractor, when you see it.
Harry Ferguson, Massey Ferguson, Massey , Ferguson Brown, Ford 9N, Ferguson, Fergie, grey Fergie, Wallis, Parrett, Blackstone, Dickie, Landini, IMT, vintage tractor, antique tractor, agricultural history